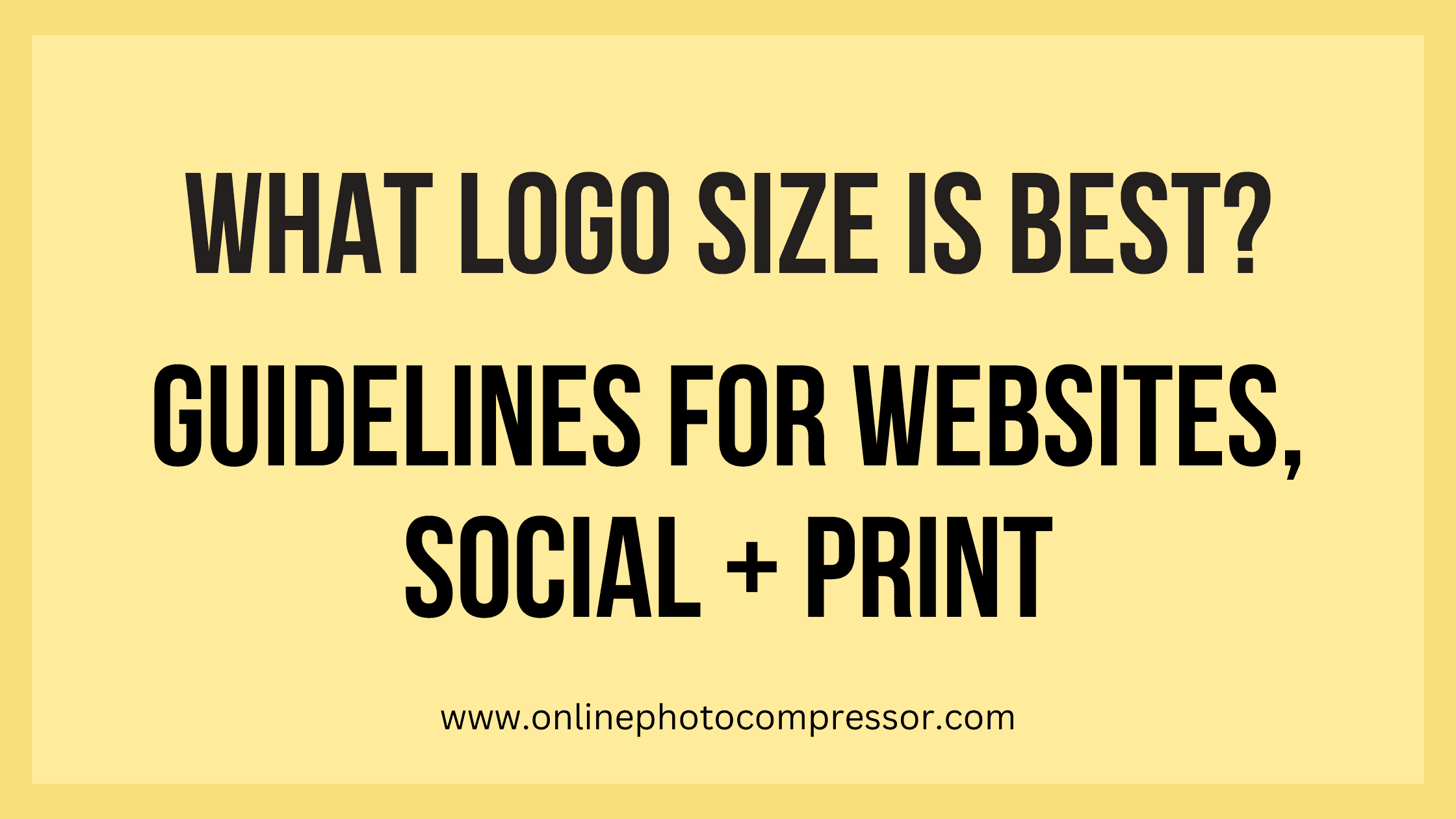 What Logo Size is Best? Guidelines for Websites, Social + Print
Take a quick guess; what is the one thing you will most likely remember when you visit a business? It's none other than its premium quality logo!
The first step towards building an exceptional corporate identity is a "Logo" - hence, it makes sense why it's the most critical consideration of all!
Dealing with color fragments while designing a logo is a steep curve that one eventually gets hold of. However, what matters is the right dimensions - what x by x the size of the logo for the website would be? Or what size of logo for print should be?
Creating a logo without doing homework might not produce the desired results! Consider it your lucky day, as this guide is being written to give you insight into what you want to know about a "LOGO."
That said, let's dive deeply into different types of website and mobile site resolutions, sizes, and a lot more!
A website Logo!
When it comes to website logos, size and resolution are key. Your website logo should be large enough for visitors to see but small enough to load quickly. When choosing a logo for your website, you should consider the size of other elements, such as text and images.
Most websites use a logo size of 200 to 300 pixels. This allows the logo to be visible without taking up too much space or causing the page to load slowly. For high-resolution logos, you may want to use a larger size. Logo sizes of 400 to 500 pixels are ideal for sites that require a premium-quality logo.
Mobile site resolutions have different requirements. For mobile websites, the logo size cannot be larger than 200 pixels. This ensures the logo loads quickly and looks great on smaller screens.
A social media Logo!
Regarding social media logos, size and resolution matter, social media sites like Facebook, Twitter, and Instagram have specific logo sizes and resolution guidelines.
For Facebook, the ideal logo size is 180 x 180 pixels. This ensures that your logo is clearly visible and legible when users view your profile or page. For Twitter, the ideal logo size is 400 x 400 pixels. This site makes your logo easily visible on desktop and mobile devices.
For Instagram, the ideal logo size is 110 x 110 pixels. This site looks great on desktop and mobile and allows your logo to stand out easily in both profile format and profile picture.
Logos for Printing!
It really isn't necessary that Logos are only made to be put on the website - as local branding is a practice that still exists.
You might need to get your logo printed for branding via a brochure or a business card. Now the case is that a logo for print needs to be amended in a different size.
Logos for print applications must be large enough to be read on the print media. The ideal logo size for print applications is 600 pixels wide. This size ensures that your logo is clearly visible when printed, regardless of size.
When designing a logo for a print application, you must also consider the resolution. Logos for print applications must have a resolution of 300 dpi. This ensures that the logo looks sharp and clear when printed.
Logos for Email Signatures!
Different email signatures require different logo sizes to look their best. Smaller logos look best when used in text-based signatures, e.g., in a professional email signature block.
For example, company logos cannot be larger than 150 x 150 pixels. Larger logos, e.g., A 200 x 200-pixel image, would be better suited for graphical or HTML-based email signatures. The premium quality logo should also be optimized for file size so as not to delay mail delivery.
Larger logo sizes are preferred for email signatures for use on social media and other websites. A 400x400 pixel logo should fit most websites, while a 600x600 pixel logo looks best on high-resolution displays. It's also important to consider the logo's shape when choosing a size, as rectangular logos look best on square images.
In general, logo dimensions should be tailored to the specific needs of an email signature. Whether it's a professional or social email signature, it's important to choose the right size and shape to make the logo look its best.
Mastering Logo Sizes - The End!
Choosing the right logo size is very important to create a unified and consistent brand image. For websites, the ideal logo size is 200 to 300 pixels wide. For mobile site resolution, the ideal logo size is no larger than 200 pixels.
For social media, the ideal logo size is 180x180 pixels for Facebook, 400x400 pixels for Twitter, and 110x110 pixels for Instagram. For print applications, the ideal logo size is 600 pixels wide with a resolution of 300 dpi.
Understanding the various logo sizes and guidelines for websites, social media, and print apps can help you ensure your logo looks its best in all media.