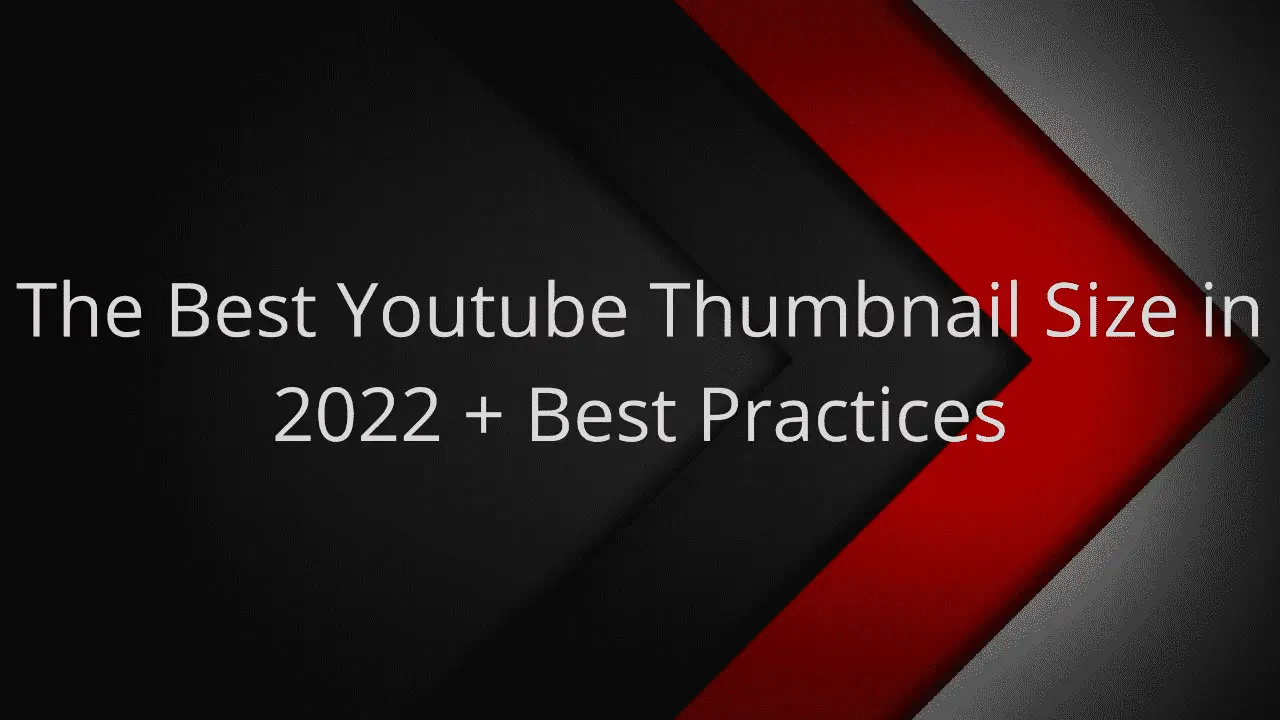 The best youtube thumbnail size in 2022 + best practices
The advent of video streaming services has profoundly changed the way we all see things. Not only that - - it's changing how we choose what to watch.
Being the top-rated video platform, YouTube is a great example of this! Here, we are presented with video titles, descriptions, and previews for each video, also known as YouTube thumbnails.
What is a thumbnail? Well, think of the YouTube thumbnails as an equivalent of a book cover when browsing the library - the more pleasing the book cover would be, the more readers it may attract, right? The same goes for the Youtube thumbnail!
If you upload videos to YouTube or have a branded YouTube channel, then choosing the best YouTube thumbnails will make you stand out from all the other videos and channels.
Hence, having said that, this article here is being written down to help you understand the perfect youtube thumbnail size, along with some tips that would help you in the long run!
So, What exactly fits best as the perfect YouTube thumbnail sizes?
According to Google's recommendations, the thumbnail size for YouTube should be 1280 x 720 pixels and at least 640 pixels wide. The 16:9 aspect ratio is ideal as it is most commonly used in the YouTube player and preview.
This surprises most people but makes sense; Although thumbnails are small when displayed in search, they will expand to the full size of the video when displayed as a suggested next play. Hence, here you need a larger image that can be scaled down rather than a smaller image that can be enlarged.
Some other important technical details include:
It must be in JPG, PNG, or. GIF image format

Your image file must not exceed the 2MB file size limit
Some Viable tips that can take your YouTube Thumbnail to a whole new level!
1. Use a Still Image from Your Video
Using a still image from your video is foremost the best way to get an attractive and eye-catching YouTube thumbnail!
If you're lucky, you may find that YouTube automatically selects the perfect photo frame from your video to use as a thumbnail.
Alternatively, if the system-generated thumbnail is not getting you all hyped up, then you have the leverage to export specific still images from your video via taking the help of any free video editing software.
What if you update an old YouTube video thumbnail and don't have the original video? In this case, you can always pause the video at any frame, make it full screen, then take a screenshot - and voila!
2. Write Eye-Catching Titles
A YouTube video is only as good as its title - well, that's not entirely true, but the title of your YouTube video matters. It's also important to include them in your thumbnails. Let people know exactly what your video is all about while trying to grab their attention with a carefully chosen title.
For example, we could make a video about video marketing and call it All About Video Marketing, or we could get smart and call it Video Marketing. In short: 6 Tips To Improve Your Video Marketing In 2021. Which do you prefer?
Obviously, people are going to fall for the second title as it grabs their attention and people are more likely to click that thumbnail!
3. Create a Custom Graphic
Many brands create thumbnails that effectively represent video content. This often includes a short title that summarizes the main benefits of the video.
This type of YouTube thumbnail contains a brand name or logo. On the odds that your YouTube channel is pointed towards solving people's problems, then creating a custom graphic YouTube thumbnail might do wonders for you!
4. Test Different Thumbnail Designs
If you're in doubt about which thumbnail design will suit your YouTube channel, don't be afraid to test out a different design. Decide on a design you like, pick a video that works well, convert a thumbnail to a new design, and track the results.
If your click-through rate increases after changing thumbnails, this theme will better suit your audience than the previous theme.
The best thing about testing is that you can try different designs as long as you base your results on meaningful data.
If a video only gets one or two clicks per week or month, the results don't mean enough to prove anything.
Hence, make sure to test different thumbnail designs and choose one that manages to grab a profound amount of clicks!
How to make a YouTube thumbnail?
1. Canva
Canva is an intuitive tool for designing and creating any image, helping you make your custom YouTube video thumbnails look professional and clickable.
With a comprehensive list of ready-to-use templates and a simple editing system, you can easily create custom YouTube thumbnails. Canva is free to use and is regularly updated with user-submitted templates.
2. Pixlr
Another tool you can use to create professional-looking thumbnails is Pixlr. With a useful and intuitive photo editing interface, it is very easy to use.
You can also use various Pixlr templates to create your own thumbnails. Whether your content on YouTube is about travel or fashion, Pixlr has custom templates that would surely help you get the best thumbnail ever!
Extra-ordinary YouTube thumbnails for you - Final Verdict!
In this guide above, here's everything you need to know about YouTube thumbnails. Now is the time for you to shine even brighter, so what are you waiting for? Make your appealing YouTube thumbnail now!