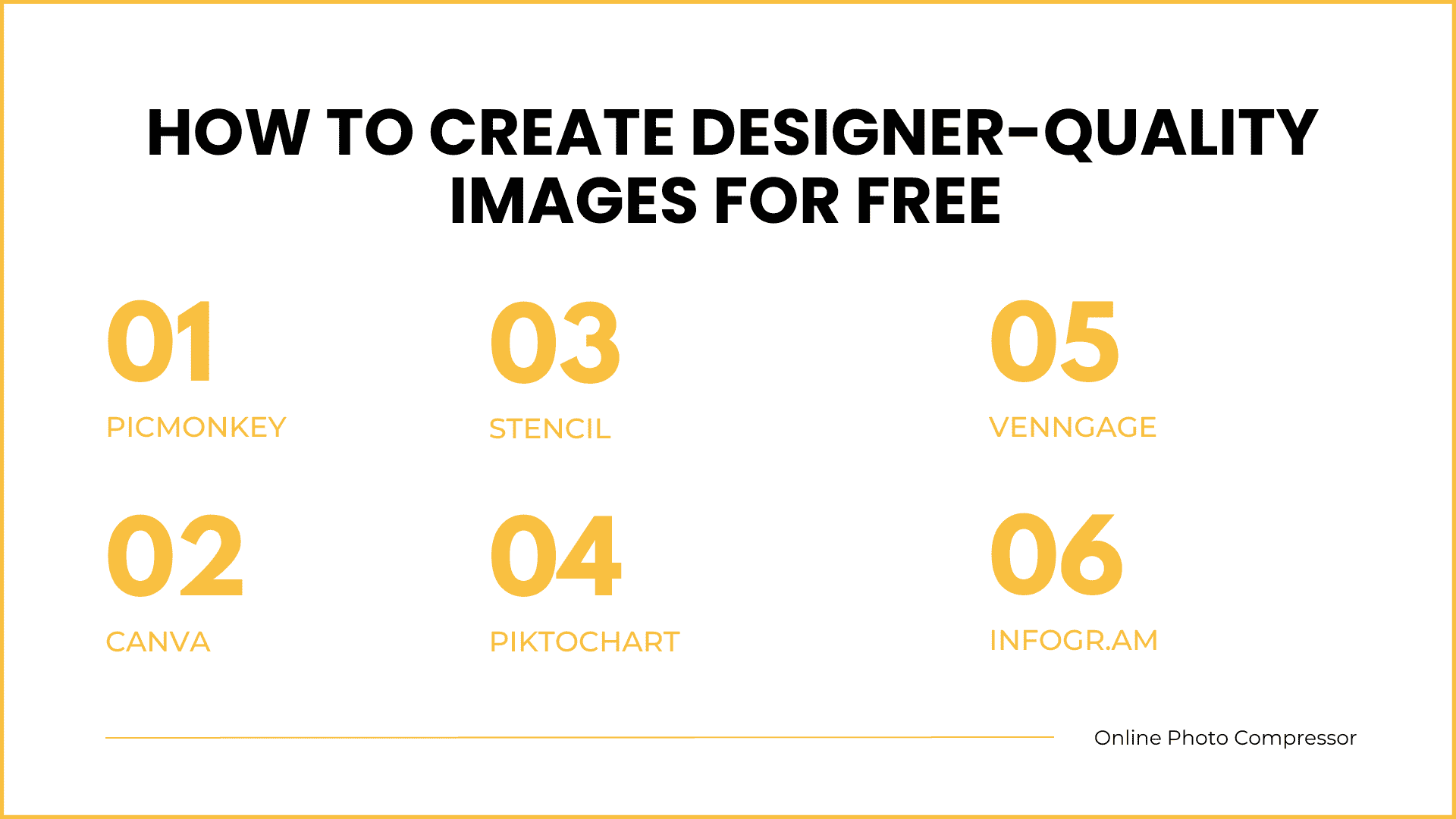 How to Create Designer-Quality Images for Free
If an image is worth 1000 words and the average length of a word in English is 5 letters, it will take 35.71 tweets to tell the same story you can with an image shared on social media.
So why wouldn't you just include an image?
But when it comes to including an image, your mind gets blinded just by the sight of thinking what that image could be!
You can find hours on the internet, but still, it would feel like you've failed to reach the image that you have in mind, and now you might be thinking that you can create a designing image yourself - but how?
This is why this guide is being written, to transform you into a designer so that you can design your own designer-quality images yourself!
Whether you want to create an image from scratch, create a meme from your photos, or just want an awesome background photo, we're sure you'll find a picture maker to help you out here.
Image Design Tool
There are dozens of free image editing tools that you can use to modify, customize, or create your own social images. These are some of the best we've found with a simple web-based interface.
1. PicMonkey
PicMonkey is a fantastic tool for editing or designing new images for your social media posts. One of the best parts of PicMonkey is its blog, which posts fantastic guides to help you create your own free images.
2. Canva
hinking about how to enhance a photo? Or increase image resolution? Or even turning a normal picture-sized image into a masterpiece? Well, this exuberant platform has surely got you covered in every regard!
Canva is by far the most comprehensive tool on this list. There are so many different design templates that make it easy for users to create images, create resumes, or design book covers.
Canva also has social media templates that make it easy to create social media images, including cover photos, profile photos, posts, and ads.
3. Stencil
If you just want to update a few images in a month without making a big investment, Stencil is perfect. The free version lets you design 10 images per month but offers limited functionality.
Infographic maker
Using an infographic builder is a simple process to share large data sets in visually appealing content.
This is why marketers still consider infographics to be one of the most shareable types of content in digital marketing. Infographics are very easy to share when done right, which is why it's important to choose quality tools to create them.
1. Piktochart
Piktochart is a popular infographic creation tool that offers lots of free design features for beginners and experts alike. Usually used by several large organizations, Piktochart's free plan is great for beginners.
2. Venngage
Venngage has both free and paid accounts, making it super easy to create and share your own infographics. Just choose a theme, change the text and date, add some graphics, and share.
3. Infogr.am
Infogr.am is a quality tool for illustrating big data and creating ready-to-use infographics for your audience. There are a number of great features available for free, but to access all of the infographic tools, you'll need a paid account for things like interactive maps.
Logo Maker
A logo is an important part of your brand. They will be seen by most of your target audience, and it is advisable to spend a little money when creating them.
Anyway, here are some free logo-maker tools to get you started:
1. Ucraft
UCraft is known as a content management system, but it also has a free logo editor. While the template is not very reliable, it can create simple logos that you will use on your website. There are other add-ons you can buy to get even more design tools for editing photos.
2. LogoGarden
LogoGarden is a quick and easy option to create a logo for free. This is the perfect tool if you're not a big fan of design and don't mind using existing images to create your logo.
The company also offers a custom logo from its design team.To have a normal picture-sized image and turn it into an artistic craft, LogoGarden has everything that you need to get a designer image!
3. Logotype
Logotype Maker is a website for small businesses and startups who want to create their own logo. The site offers more than 200 custom fonts, custom sizes, several special effects, and more. However, the free version only offers logos with no customization options.
4. Logaster
Another free logo tool is Logaster. Here you can create several versions of your product design or logo for free.
Here you can easily increase image resolutions while giving the final touches to your image so that it can be as perfect as you want!
However, you can only download thumbnails, and there is an upgrade feature to download at larger and higher resolutions.
Final Takeaway!
The art of designing a perfect image is no longer limited to graphics designers only - you can get them by yourself too!
Whether you need to increase image resolution or bring an image to normal picture size, the tools above can help you do everything you want to get your desired results!
Just give the above-mentioned tools a try, and witness the pecky results yourself!